QED's multi award winning Coaxial Optical digital audio cable
The multi award winning Performance Digital Audio cable is designed for connections between CD players, Blu-rayTM players or any other SPDIF source to your DAC or AV amplifier digital input. The QED design principle is to use a top down approach so this Performance cable shares many of the design characteristics of the top of the range Signature cable. In this instance the Performance cable uses Oxygen Free Copper conductors and twin electrical screening for enhanced signal integrity. All QED cables come with a QED Lifetime Guarantee.
FEATURES AND BENEFITS
OXYGEN FREE COPPER CONDUCTORS
99.999% Oxygen free copper for minimized signal attenuation.
OPTIMIZED COAXIAL DESIGN
True 75? ± 2% characteristic impedance co-axial construction - for low jitter data transmission
24k GOLD PLATED RCA PLUGS
Precision engineered plug with integrated user grip. Six leaf 24k gold RCA ground ring for a stable ground connection
ENHANCED SIGNAL PROTECTION
Twin electrical screening for enhanced signal integrity
OVERALL PERFORMANCE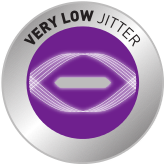 Very Low Jitter
Jitter is the undesired deviation from true periodicity of an assumed periodic signal in electronics and telecommunications, often in relation to a reference clock source. A cable displaying very low jitter has been measured at
typically 50ps.
QED LIFETIME GUARANTEE
Every order over $99 qualifies for free shipping.